by Adrienne Roehrich, Chemistry Editor
Blueberries in the Northwestern semisphere are the fruit of several shrubs in the genus Vaccinium L. They grow in all provinces in Canada and all but two of the United States (Nebraska and North Dakota). In the Northwestern semisphere, one can find 43 species of blueberries, depending on the region. Blueberries are found and produced in all hemispheres of the world. However, the species can vary by region.
Kingdom: Plantae (Plants)
Subkingdom: Tracheobionta (Vascular plants)
Subdivision: Spermatophyta (Seed plants)
Division: Magnoliophyta (Flowering plants)
Class: Magnoliopsida (Dictyledons)
There are 43 species and 46 accepted taxa overall. Some of the species include fruits we do not necessarily recognize as blueberry, including farkleberry, bilberry, ohelo, cranberry, huckleberry, whortleberry, deer berry, and lingonberry. (Source)
Blueberries are a very popular fruit in the U.S., and is consumed in fresh, frozen, and canned forms. While blueberries are a great fruit to eat to meet your suggested fruit intake, it also is one of the foods that are purported to have properties that it just does not have. This undeserved reputation results from the high levels of anti-oxidants, leading those predisposed to looking for "super foods" to classify blueberries into the anti-oxidant super food category. While eating more healthy foods is always a good idea, no food has curative effects all on its own.
Other aspects of blueberry nutrition includes it as a source of sugar. One cup (148 g) of blueberries contains about 15 g of sugar and 4 g of fiber, a single gram of protein, and half a gram of fat. If you are counting carbs, this cup has 21 g of them. That one cup of blueberries averages about 85 calories, which is approximately the same as a medium apple or orange. While almost all the vitamins and minerals nutrition gurus like to report on are present to some amount, for the 2000-calorie diet, that one cup of blueberries will provide the recommended daily value of 24% of Vitamin C, 36% of Vitamin K, and 25% of manganese. The remaining values range from 0-4%. (Values obtained from Nutrition.com and verified through multiple sources.)
The Wikipedia entry is quite good and well researched (as of August 18, 2012).
The photo above shows all of the life stages of a blueberry. Berries go from the little red nub at the end of the branch to round and juicy blueberries through fertilization of the ovary, which swells rapidly for about a month, then its growth ceases. The green berry develops with no change in size. The chemicals responsible for the blue color, anthocyanins, begin to turn the berry from green to blue as it develops over about 6 days. The volume of the berry increases during the change in color phase.
Will blueberries turn you blue? In short, no. You can achieve blue skin through the ill-advised practice of drinking silver or you can achieve orangish-yellow skin by eating a large number of carrots. This is because the chemicals causing the skin color are fat soluble and are present in a large quantity in the fat just under the skin, giving the skin those colors. Anthocyanin, the primary chemical causing the blue color in blueberries, is not fat soluble and will not reside in the fat under your skin.
Anthocyanins is a class of over 30 compounds. The chemical structure is generally as shown below. They are polyphenolic, which indicates the 3 ring structures. The "R" indicates different functional groups that change depending on which anthocyanin the structure represents.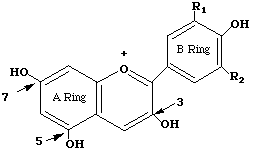 Interestingly, anthocyanins are also pH indicators because their color ranges from yellow to red to blue depending on the local pH. The blue color indicates a neutral pH. The wikipedia page on anthocyanins is also informative (as of August 18, 2012).
6 Tbsp. butter

3/4 cup sugar

2 eggs

1/2 cup milk

1/2 - 1 pint blueberries, fresh or frozen (defrosted)

Food coloring, optional

2 cups all-purpose flour

1/4 tsp. salt

1 Tbsp. baking powder

Your favorite mini-treat (Hershey's Kisses, Hugs, Reese's Mini Cups, strawberry jam, etc.)
Preheat the oven to 350º. In a large bowl, cream the butter and sugar. You can use a wooden spoon, a potato masher or handheld electric mixer. Mix in the eggs, one at a time, and add the milk.

Rinse the strawberries and cut off the green stem. Mash the berries with a potato masher or puree in a blender. Then stir the berries into the butter and milk mixture. TIP: For muffins with a more blue color, add a few drops of blue food coloring.

In a separate bowl, sift the flour, salt and baking powder. Stir well. Add the flour mixture to the berry mixture. Use a wooden spoon to stir until all the white disappears.

Line the muffin tin with paper liners. Drop the batter from a tablespoon to fill the cups halfway.

Add a surprise: an unwrapped mini treat or 1/2 teaspoon of jam. Then spoon more batter to fill almost to the top.

Bake until the muffins begin to brown and a toothpick inserted near the center (but not in the mini-treat) comes out clean, about 20-25 minutes.

Remove the muffins from the tin and cool.
Or perhaps you are in less of a cooking scientist mood and more in a home lab mood. Try this at-home lab with blueberries about dyes. Adapted from the Journal of Chemical Education.
4 microwavable/stove top staff glasses, pots, or containers at least 1/2 cup in volume

tablespoons or 1/4 cup measuring cup

water

spatula

alum (available in the grocery store spice aisle)

cream of tartar (available in the grocery store spice aisle)

hot pads and tongs

at least four small (1-2 in.) squares of white cotton cloth

yellow onion skins

blueberries

spoon

paper towels

vinegar

baking soda

a dropper

notebook for experimental observations
In each step, you will want to record your observations, paying special attention to colors.
Pour 4 tablespoons (1/4 cup) into container 1. Add a pea-sized scoop of alum and about half that amount of cream of tartar and stir. Bring the solution to a boil on the stove top or by microwaving for about 60 seconds. (Your microwave may vary.) Add two small squares of white cotton cloth and boil for two minutes. Set the container aside. The squares will be used in steps 4 and 6.

Tear the outer, papery skin from a yellow onion into pieces no more than 1 inch square. Place enough pieces in a second container to cover its bottom with 2 or 3 layers of onion skin. Add about 4 tablespoons of water to the container. Bring the solution to a boil on the stove top, continuing to boil for 5 minutes.

Wet a new square of cloth with water. Place it in container 2 so it is completely submerged and boil for 1 minute. Using tongs, remove the cloth and rinse it with water. Place the cloth square in the appropriate area on a labeled paper towel.

Use tongs to remove one of the cloth squares from beaker 1. Repeat step 3 using this square. Compare to the dyed cloth square from step 3.

Pour 4 tablespoons of water in a third container. Add 4-5 blueberries to the container and mash them with a spoon. Bring the solution to a boil on the stove, and continue to boil for 5 minutes.

Repeat steps 3 and 4 substituting the blueberry mixture in container 3 for the onion skin mixture in container 2.

Mix a small scoop of baking soda with a tsp of water in a clean container. With a dropper, place 1-2 drops of the baking soda solution in one corner of each cloth square. What happens? Rinse the dropper thoroughly, then place 1-2 drops of vinegar on the opposite corner of each square. What happens? Rinse the fabric squares under cool running water. Is there a change? Allow the squares to dry overnight. Is there any change of the cloth dries?
Optional: Try variations in the procedure such as changing the amount of dye source, the length of time the cloth spends in the dye solution, and the temperature of the dye solution.
The solution in step 1 is called a mordant. Based on your observations, what is the purpose of a mordant?
Is the dye produced by blueberries really blue? Why might some people not want to wear clothes dyed with blueberries?
All in all, enjoy your blueberries. As a shrub, it is quite pretty. As a fruit, it is quite yummy. And as the tool in an experiment, it is quite fun.
These views are the opinion of the author and do not necessarily reflect or disagree with those of the DXS editorial team.